Arroyo Seco CicLAvia
In Support of an Arroyo Seco Bikeway
This Event Has Concluded! Click the button below to view results, pictures,
and videos from the event!
View Post-Event Page
| | | |
| --- | --- | --- |
| Sunday, Oct 07, 2012 | Tweet | |
| Category | Price | Start Time | QTY Remaining |
| --- | --- | --- | --- |
| Pint Glass | $10.00 | n/a | Unlimited |
| Ride Jersey | $60.00 | n/a | Unlimited |
| Cow Bell | $5.00 | n/a | Unlimited |
Event Details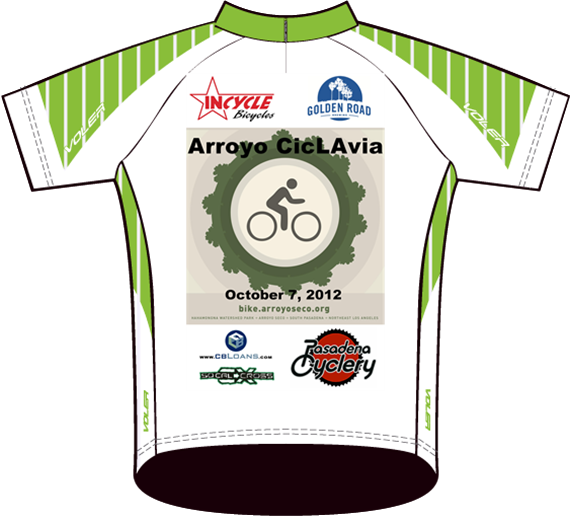 Join the ride
• 8:00 am: Hahamongna Watershed Park, Pasadena
• 8:45 am: Brookside Park, Pasadena
• 9:15 am: South Pasadena Nature Park
• 9:30 am: Lummis Home & Garden, Los Angeles
• 10:00 am: Los Angeles State Historic Park, The Cornfield
• 10:00 am: CicLAvia: China Town Hub
Arroyo CicLAvia will arrive at the Los Angeles State Historic Park near downtown Los Angeles, the site of an exciting bike festival, the 2012-13 Southern California Prestige Series of Cyclocross.
Cyclocross Festival in LA State Historic Park
• Beginner CX clinic
• Racing for all ages and abilities!
• Fun Bike Stuff to do in the Park!
• Free Kids Racing!
• Eco-Sport Expo!
• Almost anything goes for Advocacy race! BYO Fun Bike and Costume!
• Single Speed & Fixie Cross!
The Arroyo Seco Bikeway
Slowly the Arroyo Seco Bikeway is becoming a reality. The County of Los Angeles has embarked on the first phase near the Arroyo Seco Confluence with the Los Angeles River.
Arroyo CicLAvia will promote the vision of a bikeway for fun and commuting between Pasadena and downtown Los Angeles.
The Arroyo Seco
The Arroyo Seco has been called the most celebrated canyon in Southern California. This spectacular corridor with a gentle river flowing through it links downtown Los Angeles with Pasadena and the San Gabriel Valley.
The Arroyo Seco is ideally suited to feature a bicycle path as viable transporation alternative. It's a gentle downhill ride of about ten miles from Pasadena to the downtown Los Angeles filled with scenic hightlights and cultural landmarks. The path would parallel the Gold Line train with six nearby stations so that bike riders take the train one way and ride the other in the spectacular natural setting of the Arroyo Seco.
It's a fun, refreshing and healthy alternative to freeway congestion.
If you would like to help make the Arroyo Seco Bikeway a reality, please click here:
All proceeds from this ride will be devoted to promoting the Arroyo Seco Bikeway.
Want to help build the Arroyo Seco Bikeway?
Where
Hahamongna Watershed Park
Oak Grove Drive
Pasadena, CA 91011
Contacts
Dorothy Wong
Arroyo Seco Stream Team
(626)622-2595
wongwongway@gmail.com